Google Cloud Test Lab
Google Cloud Test Lab
Google has recently announced the service called Google Cloud Test Lab. Basically, the Google Cloud Test Lab will test your mobile app on a number of popular physical Android devices and tablets.
Here's a screenshot of the announcement when you login to your Developer Console: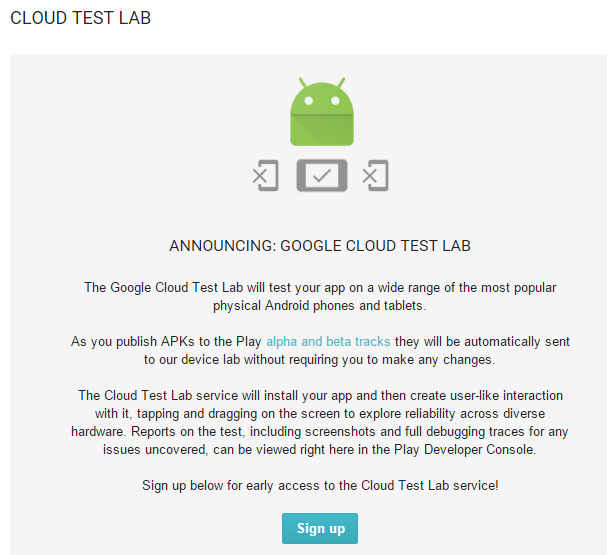 The announcement states the following:
As you publish APKs to the Play alpha and beta tracks they will be automatically sent to our device lab without requiring you to make any changes. 
The Cloud Test Lab service will install your app and then create user-like interaction with it, tapping and dragging on the screen to explore reliability across diverse hardware. Reports on the test, including screenshots and full debugging traces for any issues uncovered, can be viewed right here in the Play Developer Console.
Sign up below for early access to the Cloud Test Lab service!
I decided to go ahead and sign up for the Early Access and I'm waiting for a response or access. I'll report back about this service once it becomes available.
LIKE THIS ARTICLE?
Please join other readers who receive our news and tips right in their mailbox. Subscribe now!